Capital proposals over $300,000 should come forward initially as an Expression of Interest (EOI) to the Capital Management Group (CMG) for consideration.
The 2021 Capital submission process and deadlines were circulated to the University Senior Leadership Group in a memo from Professor Aidan Byrne, Provost (staff login required, PDF, 550KB) on 8 March 2021.
To assist with the capital submission and approval process, a Capital Planning and Approvals Framework has been drafted to formalise and clarify capital approval procedures. These draft procedures will be piloted in 2021 to ensure they are fit for purpose, before finalisation for inclusion in UQ's PPL. A copy of the draft Capital Planning and Approvals Procedures is attached to the memo above and can also be found at this link.
Submitting a proposal - Key Points
Expression of interest (EOI)
An expression of interest (EOI) is used to make an initial request to fund capital works over $300,000
You can make a submission at any time until the due date (see memo above for due dates). We encourage early submissions. All EOI will be collated and reviewed at a dedicated CMG meeting.
Once your EOI has been assessed by the Capital Management Group (CMG), you will be informed of the outcomes and any next steps.
If the EOI is assessed as not suitable for progression, it can be revised and resubmitted, or you can choose to take no further action.
Download the EOI template to help you with your submission:
Business case (BC)
Some capital proposals will be developed into a business case. The CMG will advise if you need to complete a business case for your capital proposal and provide you with a deadline for submission. If you have been asked to develop a business case, you can download the Business Case template below:
Sponsorship of EOI and business case
Prior to submission, all EOI and BC must be sponsored and signed off by the relevant authority as follows: 
Proposals under $5 million can be sponsored by a member of USET or a Director of a Major Research Institute (IMB, QBI, SMI, AIBN, and QAAFI).
Proposals over $5 million must be sponsored by Provost, COO or one of the DVC's
Capital Planning
The Strategic Plan maps the University's vision and sets priorities for operationalisation, and The Capital Planning and Approvals Framework supports strategic assessment of capital proposals and informs capital planning and budgeting. The Capital Management Group (CMG), chaired by the Vice-Chancellor, reviews all capital proposals that require Vice-Chancellor or Senate approval, using criteria based on the key requirements and principles under the University's Project Governance and Management Framework.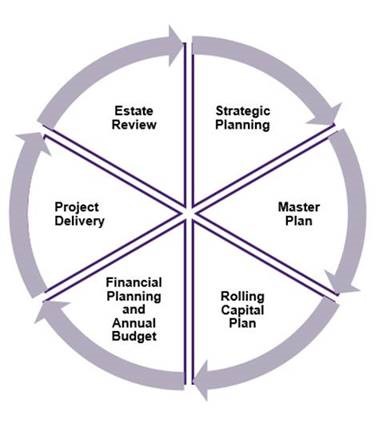 Policies
The Capital Planning and Approvals Framework is implemented in accordance with relevant University of Queensland policies including 1.10.01 Delegations Policy and Schedule of Financial Sub-delegations and 9.25.01 Investment Policy, specifically 2.8 Capital investments.